As most would have known by now, I am currently living in Singapore. A really really small country (well, it really is small, no offense ;p) near Indonesia. Some of my Indonesian friends who wanted to visit Singapore often asked me where to go, what to do, what to eat, etc. Sometimes I have difficulties in remembering what are the places and the activities, so I've decided to list them down here. I'm not saying that I'm an expert in all about Singapore, but I'd like to recommend a few places where you can eat nice and delicious food, ranging from swedish, chinese, japanese to italian. So, here are the top ten places for your culinary trip! Enjoy! :)
1. Wee Nam Kee Chicken Rice
You can't say you've been to Singapore if you haven't tasted the local cuisine. And one of the palatable cuisines is
Chicken Rice
.
Many places serve this dish, but this place offers you not only perfectly spiced Chicken rice, but also the "chinese" ambience. And the prices are not high, too! Order your chicken rice ;).
275 Thomson Road
#01-05 Novena Ville
(Novena MRT)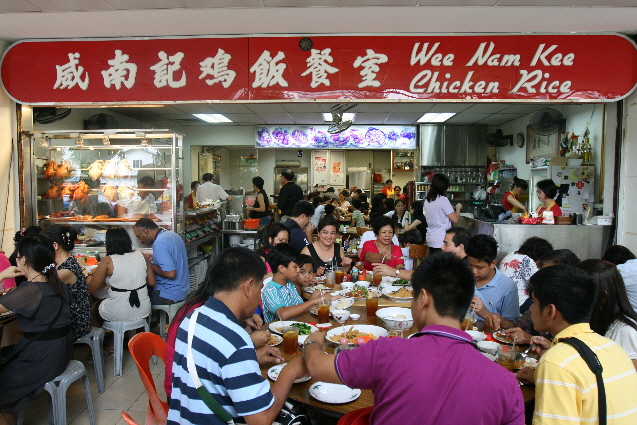 Wee Nam Kee, front view.
2. IKEA!
Well, I know what you guys are thinking about. IKEA is a furniture store, and I am crazy. But, no! IKEA has a food court, and they serve swedish food. They taste soooo nice that sometimes my friends and I went there just to have lunch, without actually buying any couches or desks or anything. One of the most popular dish is the
Swedish Meatball
. You can buy any other food, but this one is a must-try. They serve the meatballs with raspberry sauce on the edge of the plate, but if you prefer it without the raspberry sauce, it still tastes great. And they have a delicious dessert, too. My recommendation would be
Daim Cake
. It is a slice of chocolate cake with some crispies and caramel. Good gracious, only writing about it makes me drool :9.
317 Alexandra Road
(Queenstown MRT)
or
60 Tampines North Drive 2
(Tampines MRT)
Swedish Meatball, with baked potatoes! And that red thingy is the Raspberry Sauce!
DAIM CAKE! Yum yum.
3. Peperoni Pizzeria;
Love Italian food? Well, this is one unique place you should go. You may need to do some reservation, but it's quite worth it. This pizzeria serves not just any other pizzas, it serves GIANT pizzas.The largest pizzas they serve measure about
21 inches
. And you can order up to four toppings for one 21-inch pizza. The size is so big, it's great to share with four to six of your family or your friends.
6 Greenwood Avenue (near National JC)
Singapore 289195
Tel: 6465 6556
That was my friends and me, with our 21 inch pizza, half cheese half mushroom topping!
4. ION FOOD HALL;
You can't decide what to eat? Or you would like to just have some snacks? You can go to ION food hall, then. There are a wide variety of food from
japanese curry
(
Go, Go Curry!
),
korean street snacks
(
Dong Dae Mun
),
super tasty spicy wings
(
4FINGERS Bonchon Crispy Chicken
; this is my favourite!),
japanese snacks
ranging from
chickens to unagis on stick
(
TORI-Q
), singapore's very own
Old Chang Kee
, tasty
milkshake and ice cream
(
Once Upon A milkshake
), yummy
takoyaki and okonomiyaki
(
GINDACO
), delicious
eggtarts
with many flavours (
Fancy Delight
), melting-in-your-mouth chocolate cake (
AWFULLY chocolate
) and the list goes on! All these, you can find in ION food hall, yumm.
@ION Orchard
2 Orchard Turn, Basement 4.
(Orchard MRT)
GO, GO CURRY!
4Fingers Crispy Chicken!




Fancy Delight's eggtarts :9
Gindaco Takoyaki!
5. Aston's Specialties
Well, this may not be the best place to have a luxurious steak dish, but this one is pocket friendly! And I would not really recommend the tenderloin steak, (cus I tried it and it was just okay) but I'd like to recommend the chicken steaks! They have various sauces, from Lemon Lime, Teriyaki to Black Pepper! Well, I personally like the
Black Pepper Chicken Steak
, but my friends say the others are good, too! Oh, and the
Pork Chops
is nice as well. If you're feeling more than just peckish, you can try the
Double Up Chicken
, which comprises of two chickens with two different sauces of your choice! And each meal goes with two side dish of your choice, too.
Mashed potato

,

French fries

,

Coleslaw

,

Pasta salad

,
and many more! The Grillworks Chicken and the Pork Chops do not cost more than SGD 11.00! (Well, more if you order drinks, of course!) One warning though, be prepared to queue up! If you don't like standing in line, I'd advice you to come slightly before lunchtime or dinnertime, cus then people are starting to come! :).
Some of the locations:
other locations can be found at http://www.astons.com.sg/
Chicken Steak with Mashed Potato and Onion Ring!
6. Newton Food Centre @Newton Circus
No, you're not going to watch jugglers or clowns or lions with fire rings! This place is a hawker centre, with a vast variety of food! Singapore has a lot of hawker centre, but this one is special because of the ambiance. That's why, the best time to stop by is dinnertime. When you arrive, there might be some stallholders persuading you to buy their food. But you don't need to follow them. Just walk around and choose yourself! What I recommend is the
Oyster Omelet
and
the barbequed Stingray with chilli sauce
. Yum, yum. These dishes cost about SGD 10 per plate, so if you're budgeting, I suggest that you order some to share, as the portions are quite enough for about 4-5 persons. Just look at what my friends and I did from our photo below! :)
500 Clemenceau Avenue North
(Newton MRT)
Me and My friends! look at our food ;;)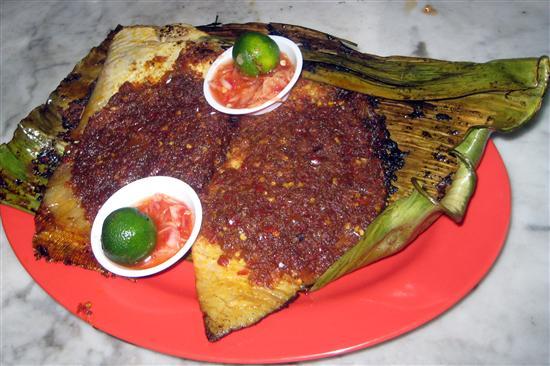 1) Newton Food Centre, overall view 2) The Sambal Stingray 3) The Oyster Omelet
7 & 8. Island Creamery
and
Udders.
Dessert time! No one could ever disagree that
ice cream
is the most classic and delicious dessert ever. Well, these two places: Island Creamery, and Udders, are the best place where you can get your homemade ice cream fresh and nice. They are different places with different owners, I tell you. But both are equally yum yum so I just can't miss any of the two.
You want chocolate ice cream? Island creamery has
ReversO
, one of their specialty. You're loving Mars Bars and Snickers and want some in your ice cream? Udders have
Snickers Mars Honeycomb Vanilla
! Both have just too many flavours ranging from
Milo, classic vanilla, berries, Teh Tarik
(Island Creamery),
liqueur based flavours
(Udders) to
banana
, it may take you quite a while to decide which one you want.
Let's talk about these two places separately, though. On your very first step entering the Island Creamery, you'll be amazed by the photos on the walls. Yes, they provide a photo-printing machine, and you can take a picture of you and your friends or family, print it right away and leave it to be put on the walls! Cool, huh!
And in Udders, you and your friends can book for an Ice Cream Workshop! You can learn how to make those tasty ice cream yourself, and the course includes ice cream buffet! All-you-can-eat! For more details, refer to http://www.udders.com.sg/ice_cream_workshop
Some of the locations:
UDDERS:
155 Thomson Road (Novena MRT)
Singapore 307608
Tel/Fax: 62546629
(more locations: http://www.udders.com.sg)
ISLAND CREAMERY
(Botanic Garden MRT)
1) Udders, front view (Look at those articles! Udders is pretty famous, huh!); 2) Ice cream with waffles!
1) Island Creamery, front view (Can you see the photos on the wall?) 2) A slice of Mud Pie
9. Everything With Fries
Another dessert worth trying can be found in this place. Are you familiar with Nutella, the bread spread? If you are a fan of Nutella, this dessert is definitely for you. In this place, they sell
NUTELLA TART
and
NUTELLA MILKSHAKE
! Well, this may sound irrelevant to the name of the place, but they do sell dishes with French Fries, but what I truly recommend is their desserts. Other than the awesome nutella based dessert, they also have the
Hot Banana Butterscotch Pudding
which tastes sooo good.
Some of the locations:
181 Orchard Road #01-24/2
(Somerset MRT)
Bugis Junction
200 Victoria Street #04-05
(Bugis MRT)
THE nutella tart!
Hot Banana Butterscotch Pudding ;)
10. KOI Bubble Tea
Being near the equator, Singapore can be extremely humid at times. What would be the better way to refresh yourself than having a bubble tea! ;) There are many other stalls selling this popular drink, but KOI is one of the best. What I would recommend is the
Vanilla Milk Tea
(which my friends and I crave. YES, the appropriate term is 'crave', not 'like'.) or
Green Tea Macchiato
for those who don't really like the pearls, or maybe
Ovaltine
for the huge fans of chocolate! The prices are about SGD 2 to 5, depending on your choice of drinks and the size. Warning: The queue may be long during weekends (especially on the days when temperatures are high, of course).
Some of the locations:
Toa Payoh Central
190 Lorong 6 Toa Payoh
(Toa Payoh MRT)
Iluma
201 Victoria Street
(Bugis MRT)
more locations: http://koicafegroup.com.sg/contact-us/
1) one of KOI stalls, 2) YEP that's THE bubble tea!




Well, that is all for now. Oh, and these places are in no specific order, just for listing purposes, no rankings. I hope that my post is useful for those who would like to visit Singapore and have some fun with the local food! Cheers :).